Luxury single-family home in La Moraleja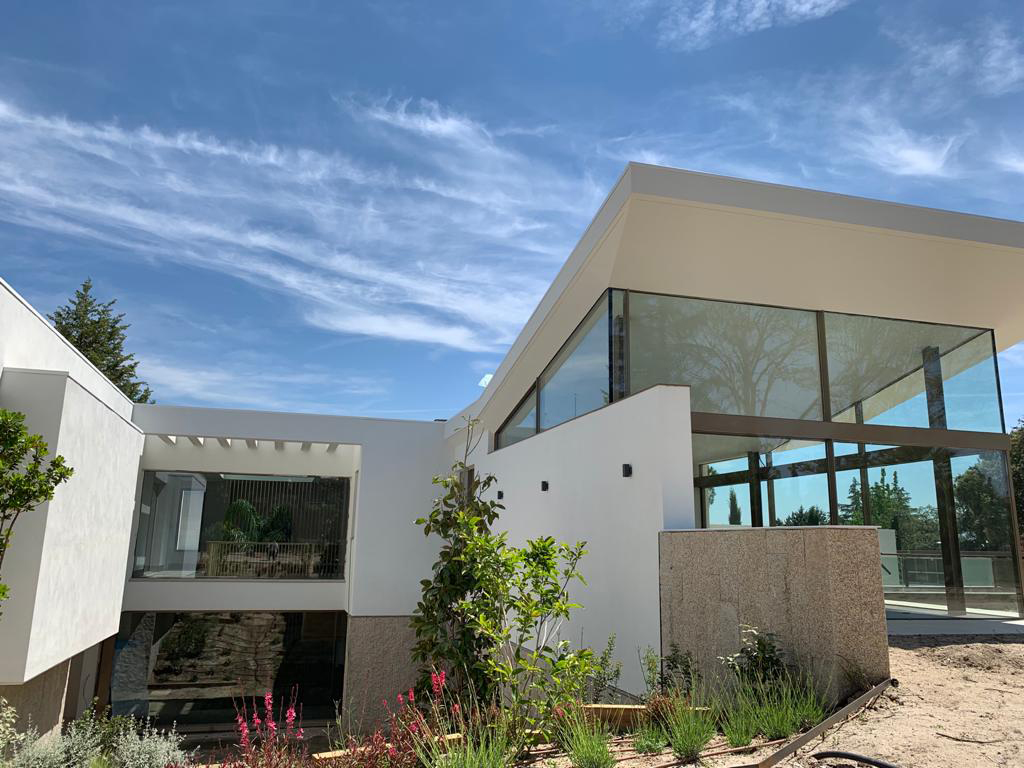 Location
Travesía de los Mesoncillos 3. La Moraleja, Madrid
Period of the work
Junio 2017- Mayo 2018
Area
700 m2 ( 2.500 m2 plot)
Scope of the intervention
New building
Construction company
Molior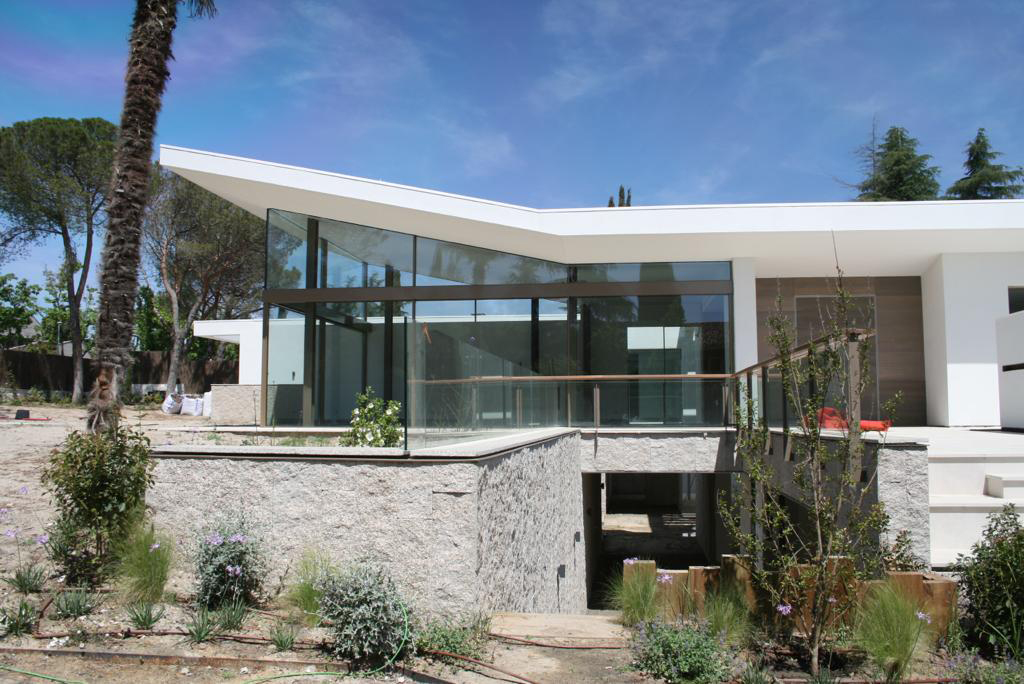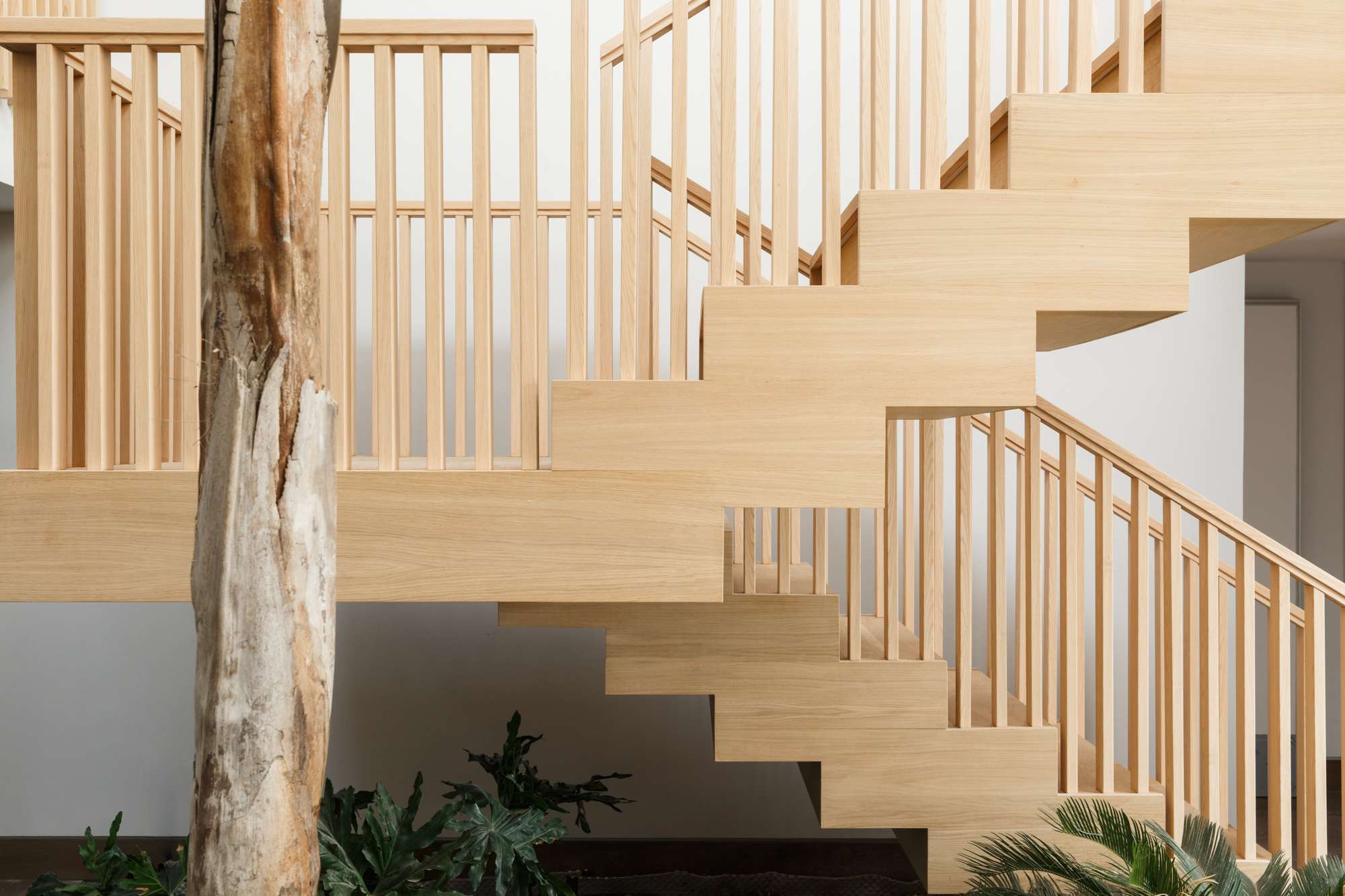 La Casa Sur or Casa H is a luxury single-family home located in the prestigious residential development of La Moraleja.
Located on the plot adjacent to La Casa L; originally, there was only one single property on this large plot, which was divided in two to build these two homes.
Each plot has a surface area of approximately 2500 square metres.
Similarly to La Casa Norte, La Casa Sur has also taken into account the land on which it was built, but in a different way in this case. Making use of pre-existing elements, such as the location of the old tennis court, the project design was started without barely affecting the existing vegetation or topography.
A single-level home with different uses in two parallel units: a social area in a first unit and a private bedroom area in a second unit.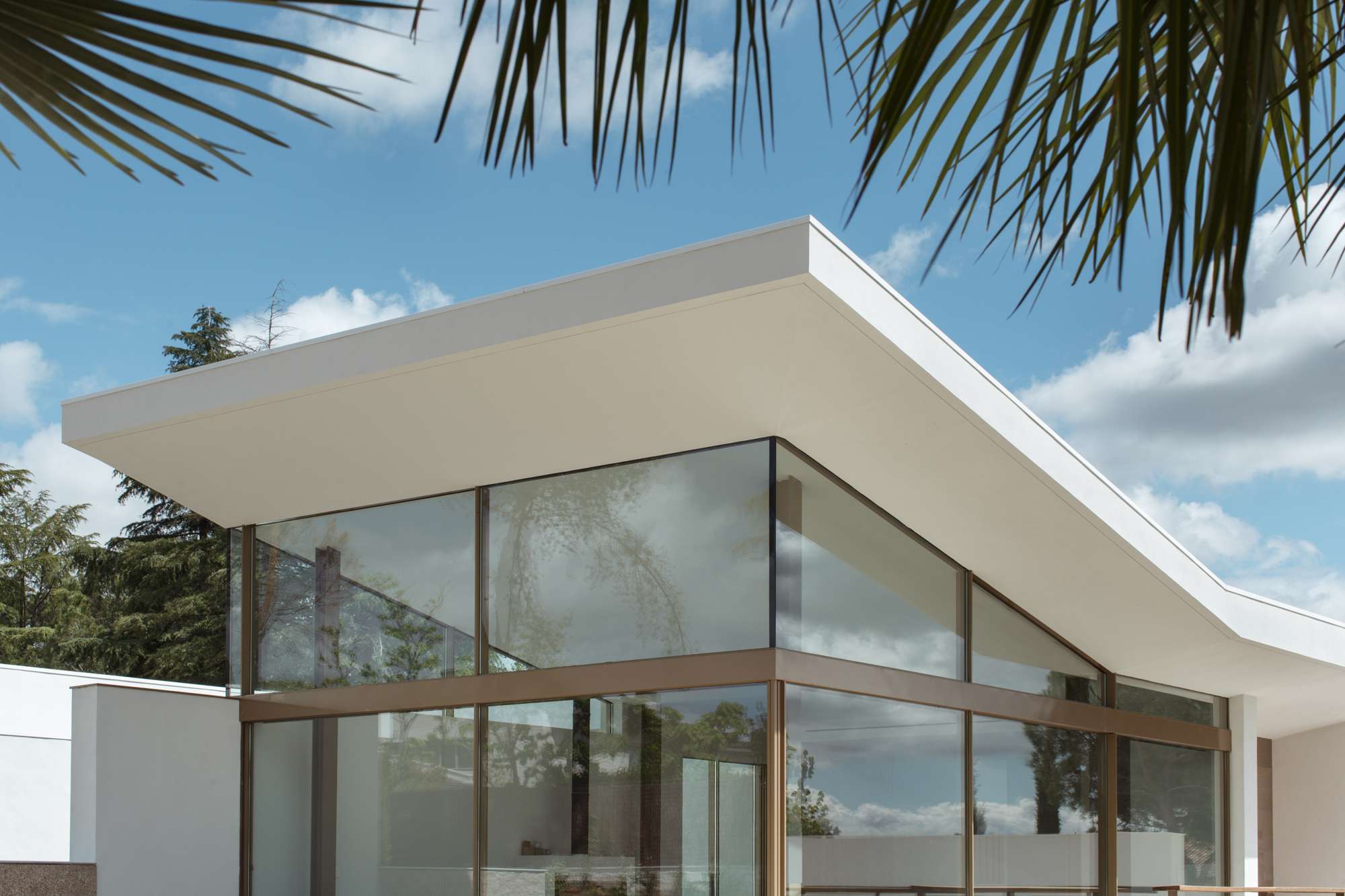 Both are connected by a spectacular double-height inner garden with an overhead skylight that provides light to the existing inner vegetation. In addition, this 'centre' will connect to the site's outdoor garden thanks to a landscaped exterior ramp that will bring the garden into the home, and create a truly spectacular symbiosis of architecture and nature.
The lower floor will be assigned to leisure areas, garages and facilities through the different closed rooms and porches, with a particular feature: the longitudinal English courtyard overflowing with vegetation that will traverse the entire home.
The orientation of this home has been carefully designed for better use of solar power in the colder months and protection from the sun when the weather is warmer.
A feature on the main roof in the area of the room where the roof angles, rising upwards, makes it possible to not only capture more natural light and create a double-height space, but also to enhance the corner views onto the spectacular private garden brimming with exuberant vegetation.
The feeling of warmth has been enhanced thanks to the materials and neutral tones used both outside and inside the home; white and bronze combined with fine materials such as wood make this a welcoming home perfectly integrated into the environment.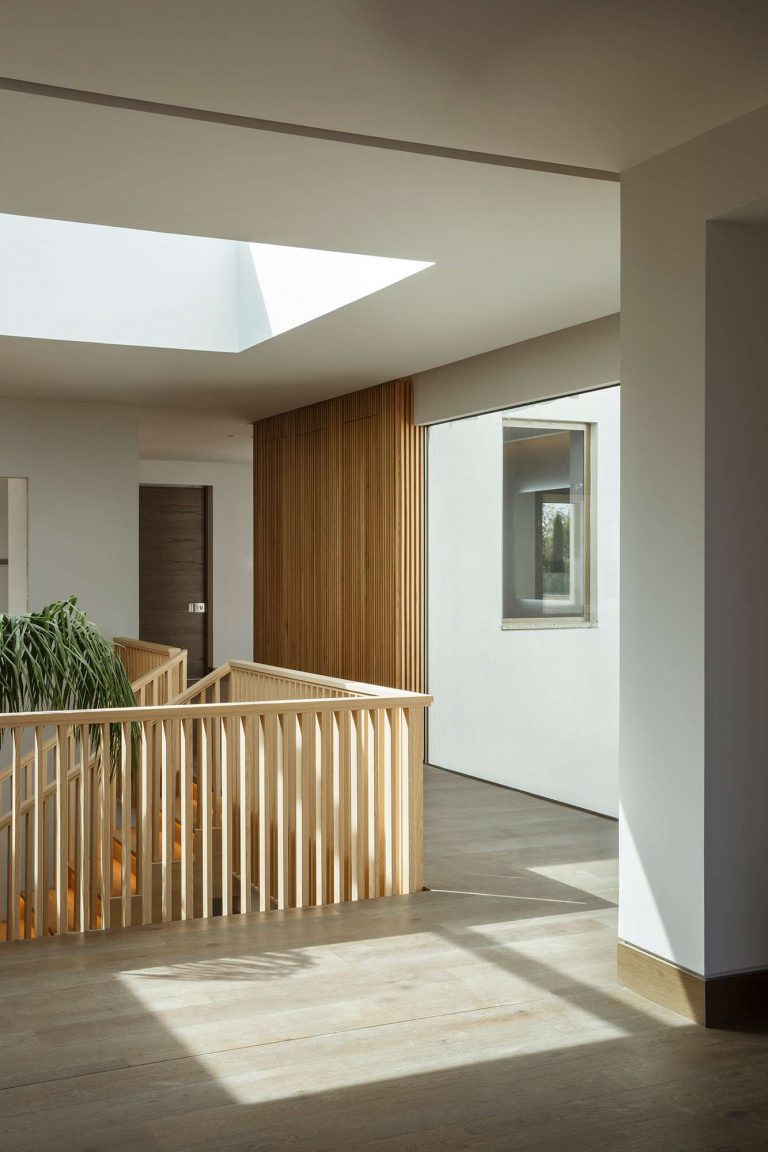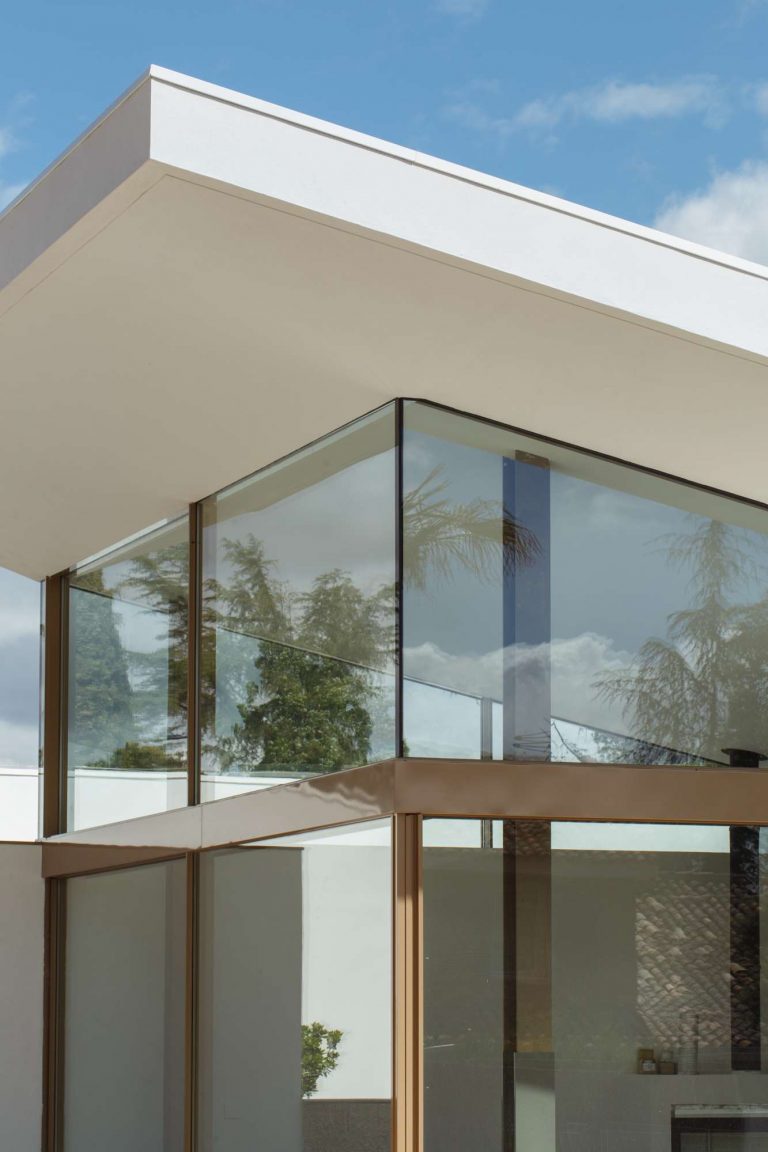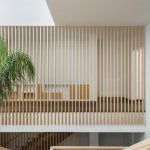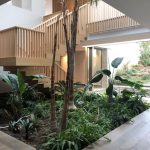 Area
La Moraleja is one of the most exclusive urbanizations on the outskirts of Madrid. It is located in the northern part of the capital and is characterized by the luxury homes that make up this urbanization.
A very quiet residential area with vegetation as the protagonist in large plots, which make contact with nature direct. It is also very well connected, surrounded by the main ring roads of the capital and very close to the airport.